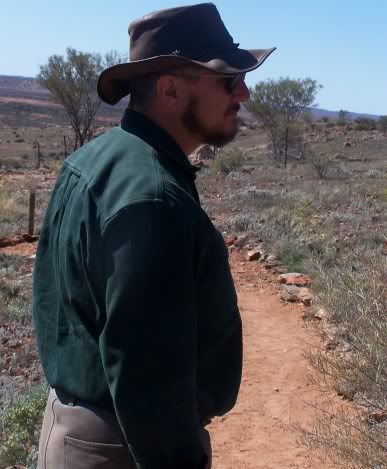 Ian Robinson at The Living Desert, Broken Hill
Dear desert people,
Please go the Bush Telegraph site.
Scroll down to Thursday 24 June 2010
select Desert Spirituality and listen
and you can hear my old and dear friend
Ian Robinson
in conversation with Michael Cathcart.
The desert pictures on the slide show
on the sidebar
were taken on a retreat near Broken Hill
led by Ian.
You can also type Robinson into the search facility
in the top left hand corner of this blog,
and you will find an Ian Robinson presence on this blog.
Desert spirituality
We all know what the desert holds; intimidating horizons, confronting silence, a threat to safety. But one of its extraordinary secrets is spiritual.
And those willing to confront this vast, imposing environment and learn the essence of being Australian have been lining up for a powerful retreat into Australia's interior.
It's an extraordinary journey and Ian Robinson, Western Australian researcher into desert spirituality and biblical traditions of the desert, is one of those leading the way.
He's a minister and evangelist who takes people into the desert to confront not just the environment but themselves. His book is 'This Thirsty Heart: Spirit Journeys in the Deserts of Australia'.
In this report: Ian Robinson, minister involved in research into desert spirituality and biblical traditions of the desert and leader of desert expeditions with Spirit Journeys.
Related reading:
Seeking the Centre: The Australian Desert in Literature, Art and Film
Australian Desert Exploration Breguet French Print 1934
Sacred Waterholes in Desert By Linda Smith From Her Australian Art Portfolio - 1000 Piece Puzzle
A World of Relationships: Itineraries, Dreams, and Events in the Australian Western Desert (Anthropological Horizons)
Uluru: Sacred Rock of the Australian Desert (Natural Wonders)
Hunters and Trackers of the Australian Desert
The Secret of the Australian Desert
Daisy Bates: Grand Dame of the Desert (Australian Life)
Daisy Bates in the Desert
Further reading: